QC1.0: The voltage and current are increased to 5V2A, and the charging time is shortened by 40%.Large-screen smartphones begin to erupt, battery life cannot keep up, in order to enhance the user experience, so QC2.0 was born.
QC2.0: Compared with the old standard, QC2.0 has changed the charging voltage from the conventional 5V to 9V / 12V / 20V, and the same 2A current with QC1.0 to achieve 18W. Power transmission and the wire can be used universally without special treatment of old wire materials.
When the voltage is increased, the power is up, and the efficiency is reduced. For every second increase in voltage, the efficiency is reduced by about 10%. Most of this energy is converted into heat, so the 20V voltage file is almost useless, leaving the only 5V, 9V, 12V three gears.
Even if it is still hot, Qualcomm thinks that the 5V to 9V step is too big, so it can be adjusted continuously in 0.2V until the most suitable voltage is found. How much voltage is most suitable? Qualcomm has its own unique voltage intelligent negotiation (INOV) algorithm, which is QC3.0.
QC3.0: Based on the QC2.0 9V / 12V two-speed voltage, further subdivide the voltage file, adopt the unique INOV algorithm, set the voltage with 200mV as the first gear, and the lowest can detect the highest voltage of 3.6V 20V, and Backward compatible with QC2.0. Due to the full use of the C-type interface instead of the original micro-USB interface, the maximum current is also increased to Figure 3A, because the lower voltage, the efficiency is up to 38%, the charging speed is increased by 27%, and the heat is reduced by 45%.
QC4.0: Increase power to 28W again and add USB PD support. The 12V voltage file is canceled, the maximum output of 5V is 5.6A, the maximum output of 9V is 3A, and the voltage file continues to be subdivided into 20mV.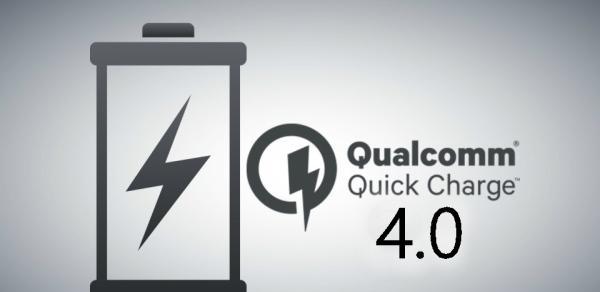 What are the QC3.0 phones supported?
To see if the phone supports QC3.0, it depends on the processor model built into the smartphone.
In September 2015, Qualcomm released a new generation of fast charging technology Quick Charge 3.0 (QC3.0 for short), currently including Qualcomm Xiaolong 430, Xiaolong 617, Xiaolong 650 (618), 652 (620) and Xiaolong 820 All processors support QC3.0.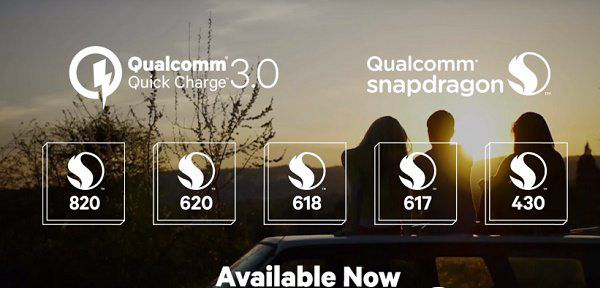 In other words, if your phone is equipped with these processors, most of them support QC3.0 fast charging.
Such as Xiaomi 5, LG G5, Gionee S8, HP Elite x3, HTC One A9, VIVO Xplay5, OPPO R9, Huawei P9, Samsung S7 and more.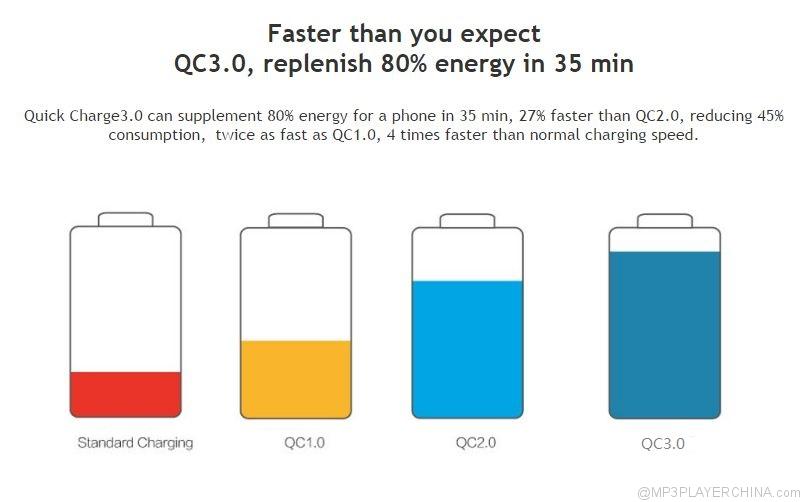 According to related technical documents, Quick Charge 3.0 can charge a typical mobile phone from zero to 80% in about 35 minutes. A traditional mobile terminal without Quick Charge usually takes about one and a half hours.
Specific details:
Improve fast charging speed by up to 27% or reduce power loss by up to 45% compared to Quick Charge 2.0.

2 times faster than the fast charge 1.0
In terms of charging voltage, Fast Charge 2.0 provides 5V, 9V, 12V, and 20V four-speed charging voltage, and Fast Charge 3.0 provides a flexible option from 3.6V to 20V in 200mV increments. This will allow the phone to get the right voltage to achieve the desired charging current, thereby minimizing power loss, improving charging efficiency and improving thermal performance.
In addition, Quick Charge 3.0 is backward and backward compatible with pre-Quick Charge versions and chargers (including USB Type-C) and has the same ultra-fast charging speed and independent circuitry for OEMs to offer more flexible options. There are also UL certifications that help to meet quality and safety standards.